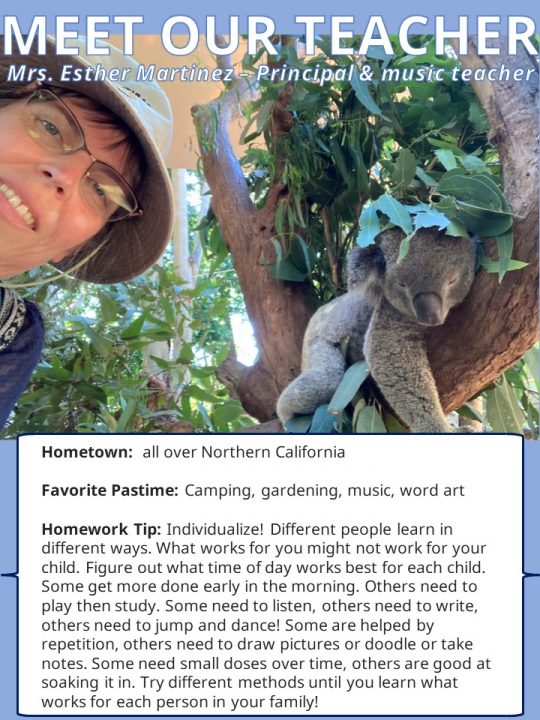 My name is Esther Martinez. I grew up in northern California and graduated from Pacific Union College in Angwin, CA. I majored in Liberal Studies with an emphasis in Education. I also earned my master's degree from the same institution.  My graduate degree is in Elementary Education with an emphasis in Reading. During college, I took one year out to be a student missionary in Chiapas, Mexico, where I taught English, music, and art at a secondary and nursing school. There, I met a very charming, God-fearing nursing student who changed my mind about "never getting married". :)
 
I spent my first 10 years of teaching at the Adventist elementary school in Ogden, Utah, teaching grades one to four in a multi-grade classroom. I also taught music and literacy for the upper grades, and Spanish I & II for high school. From Utah, JK & I moved to Southeast Asia where we spent two school years as volunteer missionaries at Bangkok Adventist International School in Thailand. My primary responsibility was fifth grade teacher. We moved to Pooler in 2008.
 
I enjoy many things about teaching and am on a continual quest to find ways to make learning meaningful and real for my students. I believe anything worth doing is worth doing well, and I push my students to achieve all God has planned for them to become. I have been principal at SACS since 2009, while also teaching various subjects and combinations in grades 1-10.
 
In my spare time, I enjoy practicing the piano and creating word art on the computer. JK & I also enjoy traveling and camping together.