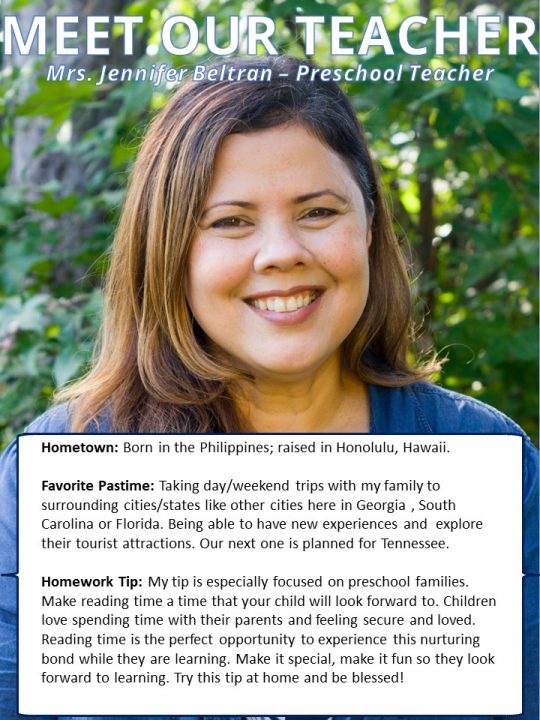 Aloha from Hawaii!  My name is Jennifer Beltran,  and I am excited to be part of the Early Childhood team here at SACS as the Preschool teacher.

Prior to moving to Pooler in 2016,  I was a hairstylist for 17 years. During that time I continued my education with plans to become a nurse.  I earned an associate's degree in liberal arts and a certificate of completion in Asian Studies at the University of Hawaii, Leeward Community College facility.

Upon moving to Pooler with my family, I discovered that God had great plans. (He always does!)  He opened many doors for me which led me where I am today. I volunteered to be a lead Sabbath School teacher at Savannah First Seventh-day Adventist Church, then applied to SACS where I was hired to help out with summer camp in 2017.  Soon after the new year started, I was asked to become the after-care supervisor and Mrs. Brown's assistant in the Pre-K/K classroom.  I learned so much from her while assisting in her class. I became the Summer Camp director and Preschool teacher in 2018 and I earned my CDA (Child Development Associate) in 2019.
I'm very excited for this opportunity to guide and mentor the tiny tots, as God continues to unfold His plans. 
"Let all that you do be done in love." 1 Corinthians 16:14
MRS. B's HOMEWORK TIPS: Being the teacher of the littlest people at our school, I assign age-appropriate  homework. 
On Mondays through Thursdays, they have two homework assignments . The first is to color in their reading log. The second is to practice their (shortened) Bible verse to recite together on Friday.
My reading tip is to make this a special time that your child will look forward to. Children love spending time with their parents and feeling secure and loved. Reading time is the perfect opportunity to experience this nurturing bond while they are learning.
As for the Bible verse,  we will recite it together a couple of times during morning worship.  What makes it really fun is when I make the Bible verse into a song and we sing it together. I will also randomly sing our verse throughout the day and they'll often start giggling and join in. Using this method, I am always amazed how quickly they learn the Bible verse. You can find fun ways at home to help them practice the verse.
Make it special, make it fun so they look forward to learning. Try these tips at home and be blessed!