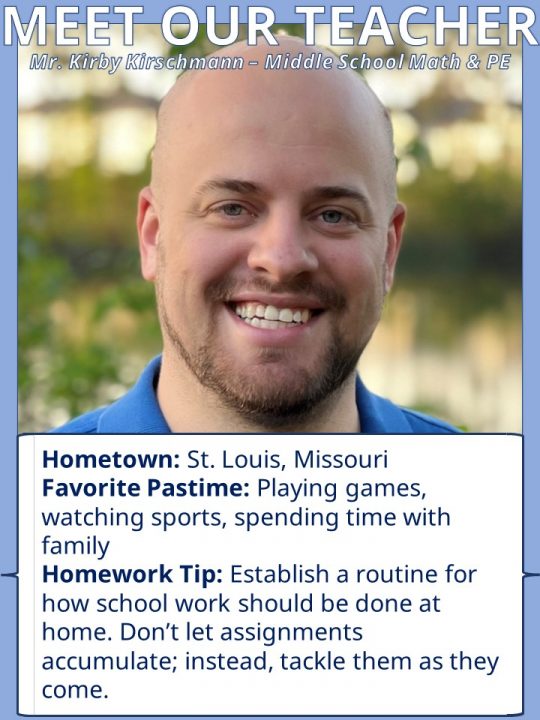 Hello there! My name is Kirby Kirschmann. I'm the homeroom teacher for 5th & 6th grade. I teach math and PE for grades 5-8. I graduated from Southern Adventist University with my B.S in elementary education and in 2019 earned an M.Ed. in educational leadership.
I spent my first two years teaching in Atlanta, Ga. After getting married in the summer of 2015, my beautiful bride and I moved here to Savannah.
In January of 2019, we welcomed a third member to our little family, a precious baby girl. Needless to say, life has changed for the better. We love to watch her grow and discover the world around her.
I'm an avid sports fan. In particular I follow the Minnesota Vikings, Minnesota Twins, St. Louis Blues, and Los Angeles Lakers. In addition to watching sports, I also love to play all kinds of sports and games. My wife and I like to travel to see new places and things. Although we don't get the opportunity as much as we'd like to now, we hope to in the future. 
Philosophy of education
A sports team doesn't bring home the championship unless everyone on the team does their part to contribute to goal of team. I believe that education works the same way. In order for an education to reach it's highest potential it takes cooperation and teamwork from the teacher, student, family, and God. If everyone contributes, tries their hardest, and is focused on the goal then it will be achieved.